Transport Options
Rail, Swinglift or Hi-Ab ?
There are three main types of transportation that we can deliver or pick up containers.
Swinglift
Swinglift, also known as Swinglifter or Sidelift, are the most common method of repositioning containers in New Zealand. The swinglifts are designed to lift containers from the ground, to be able to pick up either one 20′, one 40′, or two 20′ ISO containers at a time. They can generally lift a full container load up to 24-25 tonne.  Suitable access is required to utilise a swinglift. Please check with our team for the best option for you.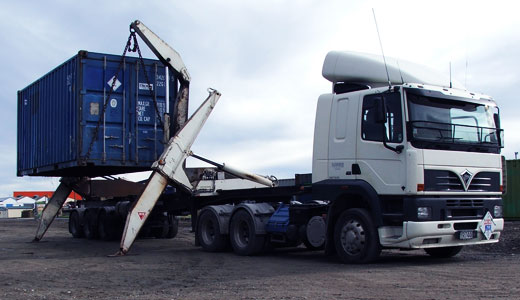 Hi-Ab
The name, Hi-Ab, comes from the commonly used abbreviation of Hydrauliska Industri AB, a company founded in , Sweden 1944.
If your site has limited space and/or access then a Hi-Ab truck would be your best delivery or pick up method. Hi-Ab trucks have flexibility when lifting and placing containers but have limited ability in terms of weight. Please check with our team for the best option for you.
Rail
Our team will ulitilse rail or coastal vessel to cover longer distances between locations.  The containers are picked up and delivered to the nearest rail CT (container transfer) site and transported to the nearest location to your final delivery address. We arrange either a Hi-Ab or Swinglift to complete the delivery for you. Seamless!